I know what you're thinking.

"Kevin, didn't you go to Seattle a couple of weeks ago? How was your trip?"

Not too bad, thanks for asking. I only stayed one night (below is the view from my hotel room), but I had a good time while I was there.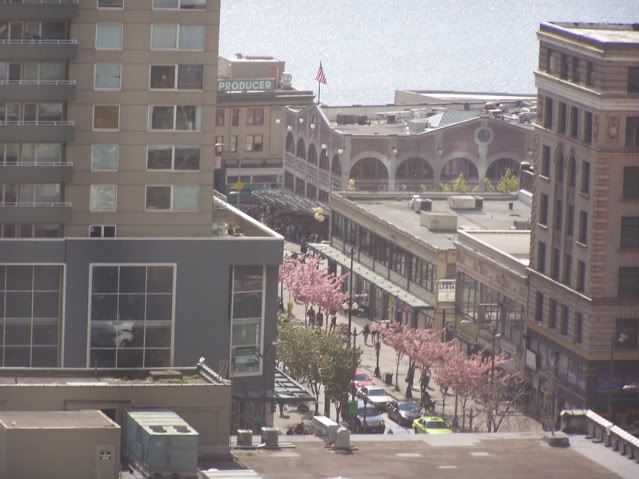 After settling into my hotel, I went down to the Pike Place Market where I bought a few postcards, took a couple of pictures, bought some fresh mini-donuts from a vendor, and had dinner at the Sound View Cafe. While the reviews are somewhat mixed, I was very satisfied with my grilled rosemary-chicken sandwich, served on some very nice artisan bread. The view of Puget Sound is pretty darn good, too.




Bigger than some shopping malls, Pike Place Market is filled with an amazing variety of shops and and great places to dine. I didn't go there on this trip, but I highly recommend going to the Main and North Arcades and exploring the farmers market. You'll know you're getting close when you see people coming your way with beautiful bouquets of flowers wrapped in brown paper. 101 years old, it also has a colorful history. One of the buildings, the LaSalle Hotel, used to be a bordello in the 1940s!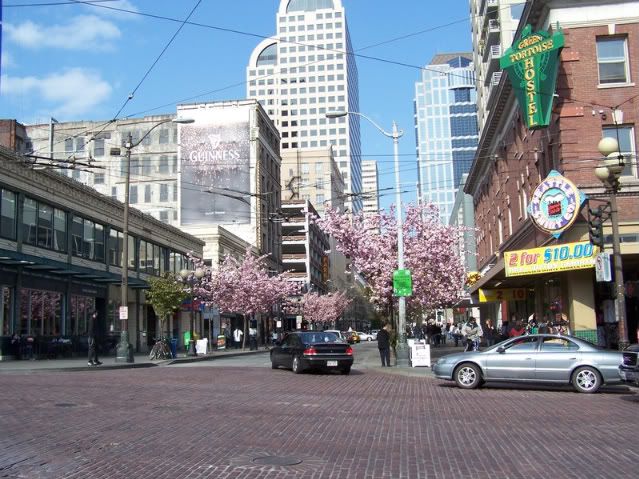 That night I went to the Mariner's game (more on that in a future post). The next morning I went to the Seattle Art Museum to see an exhibition of Roman Art from the Louvre in Paris.




Unfortunately, photography was not allowed inside, so I didn't get any pictures of the items on display, but I was appropriately impressed. After an hour or so touring the exhibition, I took a look around SAM and was equally impressed by what they have on display. It wasn't The Louvre but it definately wasn't The Tate Modern, either. There are quite a few interesting things on display honoring the museum's 75th anniversary, including Inopportune: Stage One which is "a large-scale installation work consisting of a meticulous arrangement of life-size cars and multichannel tubes that seem to blow up in sequence, symbolizing a series of car explosions" and hangs mostly above the main lobby. You can't miss it! Some/One is an amazing work of what is called "minimalism." "Some/One, as the title of the work indicates, juxtaposes the collective—represented by a larger-than-life armor sculpture [made from stainless steel military dog-tags] —and the individual, consisting of life-size shiny-metal dog tags, each unique and representing a single soldier." I think it should be noted that Some/One was made by a South Korean artist (Do-Ho Suh) who emigrated to the US after fulfilling his mandatory service in the South Korean army, and is dated 2001, and is most likely not a work of art protesting the war in Iraq.

With art from Pacific Northwest Native Americans, Africa, and even a couple of Andy Warhol items, the Seattle Art Museum has quite an impressive collection from around the world in a great variety of mediums.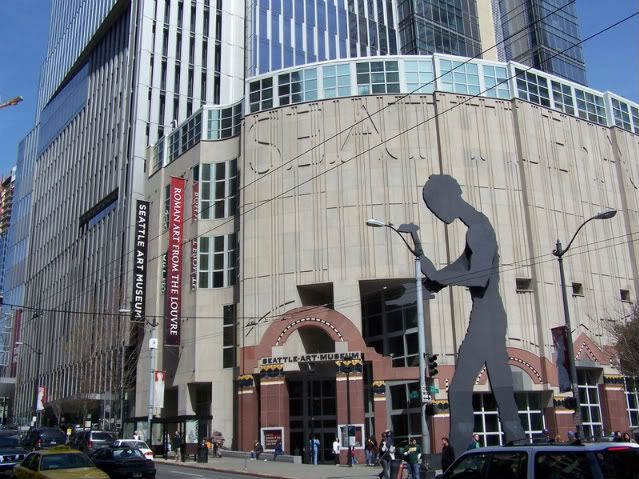 I, unfortunately have no idea what this moving (literally!) sculpture is called, but I thought it looked pretty darn cool.

For lunch I went back up Union Street to dine at an asian restaurant and satay bar called Wild Ginger. According to their menu, "'Satay' is an Indonesian word meaning skewered and grilled." From the lunch menu I started with the Street Hawker Beef satay (which was good, but nothing really special), and then had the Cambodian Grilled Pork Steak for my main entreé, which was actually quite good! The portion was a little big for one person, but for only $10.25, it was a good deal.

I decided to head home after lunch, which was a beautiful drive through the Cascade Mountains (better going west than east, tho'), about 360 miles round trip. Not to brag, but my Prius got 49 mpg! Through mountainous terrain!! How cool is that???